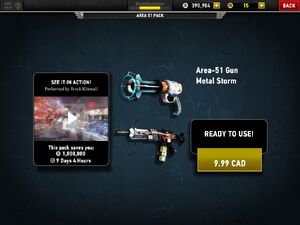 Not to be confused with the Area-51 Gun
The Area-51 Pack is a pack available in the Dead Trigger 2 shop. It costs 9.99 CAD.
This pack contains the Metal Storm and the Area-51 Gun.
Worth Your Money
Edit
This pack contains 2 weapons which may not be te best choices in combat, while they have a special ability, it may not prove useful in some situations. The price of the bundle is not too expensive, but it is not exactly the best choice of you want a good deal.
Ad blocker interference detected!
Wikia is a free-to-use site that makes money from advertising. We have a modified experience for viewers using ad blockers

Wikia is not accessible if you've made further modifications. Remove the custom ad blocker rule(s) and the page will load as expected.