Home
Talk

0
324pages on
this wiki
Update 0.7.0 is live!
Please read this if you would like to know when the next location is available
Suggest poll ideas here for a chance to be featured on the wiki!
Featured Wiki Content
☣ Slider
☣ Dead Trigger Poll
Full Auto or Semi Auto? - Suggested by Nyte blayde
For archived polls, see Polls.
To suggest future polls, see Polls/Suggest.
About Dead Trigger 2:
Dead Trigger 2 is an action/first-person shooter game. It is situated in a post-apocalyptic zombie period. Players will fight through hordes of the undead and while doing so he/she will receive money and gold to improve his/her arsenal.
NOTICE: The Dead Trigger 2 Wiki is updated to include all information about the Storyline, Data on all Weapons, Items, and Character Upgrades. Pages are constantly being modified for better presentation. This wiki covers the iOS, Android, Mac, and PC versions, so not all articles will be suited specifically to either's statistics.
☣ Community Message Board
To-Do List
Create, complete, & polish all pages for Dead Trigger 2.

Weapons
Items
Characters
Missions

Add high quality photos to all required pages.
Update Dead Trigger 2 upgrade prices for affected weapons.
Categorize all pages accordingly.
________________________________________________________________________________________________
Update for September
Hello! I guess everyone recently has been busy, as have I. Well, I'm here to announce the release of 0.7.0 for Dead Trigger 2! I'm glad MFG finally updated the game so expect the wiki to once again be updated as well to reflect the newest changes in the game. Due to our busy schedules, us admins would kindly encourage anyone to help edit and improve the wiki for the experience of many others. See you all soon! Stay safe out there, who knows what zombies are lurking right around the corner? O: Inc1t3Ful (talk) 20:07, September 1, 2014 (UTC)
As of September 1st, the new Summer update is live! except most people have already ended their summers, and fall is just around the corner. To reiterate what has already been stated, I, like Inc1t3Ful, as well as our other staff members have had little room in our free time to edit and manage this fine Wiki of ours, so any contributions are welcome (Except for vandalism). For those still on summer break, enjoy it! for those who aren't, play some Dead Trigger 2 to keep your spirits up. Claywick (talk) 21:25, September 1, 2014 (UTC)
☣ Madfinger Games Twitter Feed
Tweets by @MADFINGERGames
☣ Recent Activity
| | |
| --- | --- |
| Last Update | Current Update |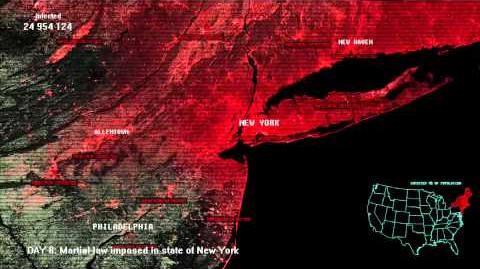 Create blog post
Latest Blog Posts
I'm writing this in case the update information is lost, so here it goes:




Celebrate the First Annive…


Read more >

I was just wondering the best way to get blueprints? I haven't played the game in a while and just …

Read more >

The update will is currently in review by Apple. It will most likely be released in a few days.



Read more >
See more >
Join the Chat