Home
Talk

0
162pages on
this wiki
GO VOTE FOR DEAD TRIGGER AND SHADOWGUN: DEADZONE FOR BESTAPPEVER HERE!
Please take a moment to read this Wiki's editing standards here!
☣ Slider
☣ Dead Trigger Poll
What was your favorite aspect of the original Dead Trigger?
For archived polls, see Polls.
About Dead Trigger:
Dead Trigger is an action/first-person shooter game. It is situated in a post-apocalyptic zombie period. Players will fight through hordes of the undead and while doing so he/she will receive money and gold to improve his/her arsenal.
NOTICE: The Dead Trigger Wiki is updated to include all information about the Storyline, Data on all Weapons, Items, and Character Upgrades. Some pages are currently being modified for better presentation. This wiki covers both the iOS version and the Android version, so not all articles will be suited specifically to either's statistics. Most contributors are iOS users, so the wiki may be behind on updates if they are not already released for iOS.
☣ Community Message Board
The current plans for ALL the pages is to revamp them, and update them with all the necessary information, so for example, all the guns pages will look like the Colt 1911 page, and all the Items will look more or less like the Bandage page. So in a nutshell, all pages will look more presentable.
To-Do List
Add information for all the guns (starting ammo, rank to unlock and amount per pickup).
Create, add photos, and edit pages for Items.
Create, add photos, and edit pages for Character (equip).
Add template to all Guns; (Rank, Gold, and Money)
Update for May
Again this month, no real new news on Dead Trigger 2. Though they are asking fans to vote for their new games for the BestAppEver awards! Woohoo! Anyways, I personally have finally gotten a new computer, so I can resume frequent edits again. Though I won't be too active until Dead Trigger 2 is out. Again, the release date is not precise, though it will be released at some point from now, until June 2013. Oscar1444 (talk) 02:37, May 8, 2013 (UTC)
☣ Madfinger Games Twitter Feed
☣ Recent Activity
Last Update


03-19-13

12-18-12




Current Update


05-08-13

05-17-13



Create blog post
Latest Blog Posts
Hey everyone!

Madfingers released 1.8.0 and 1.8.2 for the Android and has updated their FB page with…

Read more >

I was wondering if, when Dead Trigger 2 comes out, we could activate an account in the game for thi…

Read more >

Hello DeadTrigger Wiki editors and fans!

As you may or may not know from the wiki activity, the Dead…

Read more >
See more >
☣ Featured Image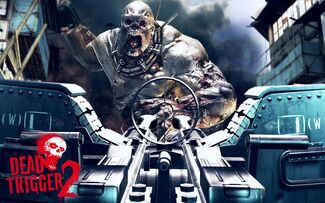 The new static weapon, engaging a larger Zombie in Dead Trigger 2.