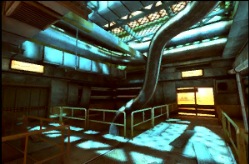 This Arena map is one of the original maps. Deadly Corridors is a map that features various pipes and crates. This map has a notably long curved corridor. This map is quite confusing with many doorways and paths that lead in circles.
Like all Arena maps, this map comes with 3 power-up stations. Ammo, Health and a Speed Booster/Damage Booster perk can be bought.
This map has Chinese characters in some corners.
This map was replaced with Haunted Graveyard during the Halloween patch 1.6.
Ad blocker interference detected!
Wikia is a free-to-use site that makes money from advertising. We have a modified experience for viewers using ad blockers

Wikia is not accessible if you've made further modifications. Remove the custom ad blocker rule(s) and the page will load as expected.