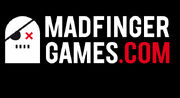 MADFINGER Games, a.s. is a Czech indie game developer, who developed Dead Trigger. Located in Brno, in the Czech Republic, MADFINGER Games brings together a team of veteran console game developers. Their goal is to create console-quality games for iOS. Android mobile devices with a major emphasis on complete customer satifaction. It was founded in 2009, releasing titles for iOS and Android since.
Marek began working as a programmer in 1993. He has been engaged in game development since 2000, when he began working for illusion Softworks / 2K Czech and Kuju Entertainment as a senior/lead programmer.
After 12 years of making games for PC's and Consoles, Petr decided to quit the big games and utilize his knowledge in shorter, yet maybe even more challenging projects for mobile platforms. His first task at Madfinger Games was to finish Dead Trigger within 4 months.
Petr is the community manager, in charge of communicating with players, and a former member of this wiki.
Games Developed
Edit
| Name | Platform | Release Date |
| --- | --- | --- |
| BloodyXmas | | December 10, 2009 |
| BloodyXmas 2010 | | December 14, 2010 |
| Samurai: Way of the Warrior | | June 22, 2010 |
| Samurai II: Vengeance | | October 21, 2010 |
| Samurai II: Dojo | | December 2, 2010 |
| SHADOWGUN | | September 28, 2011 |
| DEAD TRIGGER | | June 28, 2012 |
| DEAD TRIGGER 2 | | October 23, 2013 |