Welcome to the Dead Trigger Wiki's Dead Trigger portal!
Dead Trigger missions, weapons, characters, and more!
Summary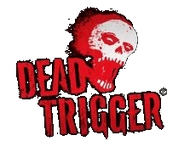 Dead Trigger (also known as Dead Trigger I) is the seventh mobile game developed by Madfinger Games, a.s. The game was announced in early June, and released on June 28, 2012 for iOS, and a few days later, Android. Development took 4 months, and was released for $0.99, though due to piracy, dropped the price and can be downloaded for free. The game is currently on Steam Greenlight. It takes place during the zombie apocalypse in 2012, following a Hero's journey to survive. Read more...
Contents

Characters

---

---

---

---

---

---

---

---

---
Ad blocker interference detected!
Wikia is a free-to-use site that makes money from advertising. We have a modified experience for viewers using ad blockers

Wikia is not accessible if you've made further modifications. Remove the custom ad blocker rule(s) and the page will load as expected.