Welcome to the Dead Trigger Wiki's Dead Trigger 2 portal!
Dead Trigger missions, weapons, characters, and more!
Summary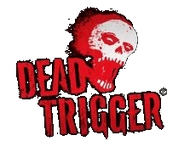 Dead Trigger 2 (also known as DT2) is the eighth mobile game developed by Madfinger Games, a.s.. The game was announced on January 6, 2013, and released on October 23 2013 for devices supporting NVIDIA 4 and all iOS platforms. New elements include being able to use a turret, and a new giant Zombie, along with a multitude of new areas. It takes place after the events of its predecessor, Dead Trigger. Read more...
Contents
Characters
---

Weapons
---
---
Ad blocker interference detected!
Wikia is a free-to-use site that makes money from advertising. We have a modified experience for viewers using ad blockers

Wikia is not accessible if you've made further modifications. Remove the custom ad blocker rule(s) and the page will load as expected.