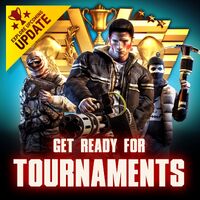 The Tournament is a weekly event, held in the Arena Of Death. It was added in the 0.6.0 update.
The Tournament is located in a fictional island named "Tournament Island", to the west of South America. Its icon is a golden trophy. Below it is the time when the tournament will begin or when will it end.
The tournaments are only held every weekends. For every tournament, there are prizes and every player gets three lives each and an additional two for 10 gold. In order to be part of the tournament, there is a fee depending on the tournament type.
The Tournament is held in the second map of the Arena, "The Purgatory". 
For every tournament, there are five prizes for the players who reach a specific score.
Types of Tournaments
Edit
Mayhem Tournament - The Mayhem Tournaments are the most common type of tournament. It costs $1000 to enter and has five cash prizes.
Run & Gun Tournament - The Run & Gun Tournaments are almost the same as Mayhem tournaments. The only difference is that in Run & Gun Tournaments, there are two required weapons to be used. If one lacks one or both of the weapons, the tournament cannot be entered.
Slaughter Master Tournament - The Slaughter Master Tournament is the most awaited of all tournaments. It costs a fee of 20 gold to enter. Also, all the prizes are gold except for the first prize which is not an in-game reward (iPad Mini retina, NVIDIA SHIELD tablet).
Tournaments are an Android and iOS only feature. It was previously available on the Facebook version of the game, but was removed as it is deemed unfair for mobile players.