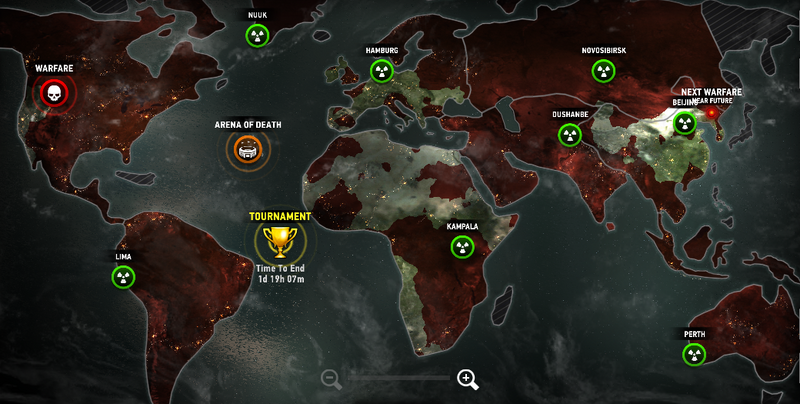 The World Map is a map of the world during the zombie breakout and gives access to missions in areas available. The appearance of the World Map also changes from time to time. Every time a city is liberated, it changes from red to olive green.
Gold Star - The trail of gold stars show the available campaign missions. 
Check Mark - The green check marks shows successfully finished campaign missions.
Small Red Dot - The red dots scattered all over the map shows cities. Formerly, a liberated city is represented by golden monument. Now, there is no distinction between a liberated city and a one in zombie territory.
Big Red Dot - The bid red dot represents the next city to be in the global warfare.
Broken Lines - The yellow broken lines represent the trail of the campaign missions
Red Skull - A red skull represents a city, currently in Global warfare. If zoomed in, it is replaced by a group of buildings.
Radiation sign - These icons are scattered all over the map and represents a city that is not in Global warfare, but can be played in.
Trophy - The icon of a trophy points to the whereabouts of the Arena of Death tournaments.
Stadium - The icon of the stadium represents the location of the Arena Of Death.
Red Area - 

The red areas in the map show zombie-infested cities, also called "zombie territory" or "infected area".

Olive Green Area - The olive green areas in the map show liberated areas and free from zombies.
Noticeable changes
Edit
Due to Dead Trigger occurring in an alternate reality, there are many noticeable changes on the world.
An island, dubbed "Slaughter Island", had risen in the middle of the Atlantic ocean, and it is where the Arena of Death resides.
On the west of South America, there is an island that the Mayhem Tournament is held.
The Philippine Archipelago is missing an island, which is Palawan.
Great Britain and Ireland are together. This is incorrect.
New Zealand is one island in this game, but in real world there are two islands, North and South.
Ad blocker interference detected!
Wikia is a free-to-use site that makes money from advertising. We have a modified experience for viewers using ad blockers

Wikia is not accessible if you've made further modifications. Remove the custom ad blocker rule(s) and the page will load as expected.